Information Reference: the information in this page is obtained from http://www.solobackpacker.com. Please visit the blog for much more and great information information source
How to Reach? Roopkund is not connected to a motorable road all the way. It requires a trek for about 23 kms after the last motorable point, Wan village, to reach up to Roopkund Lake. So, there is basically two parts in this journey to Roopkund: Motorable Part and Trekking Part
1. Motorable Part: Being in a remote area, it requires a lot of effort to reach here, unless traveling on a hired vehicle or a private car. From Delhi, a combination of train, buses and shared jeeps are required to reach at Wan Village after the journey of at least 24 hours. Distance wise, it is about 530 kms from Delhi via Haldwani, Almora and about 505 kms from Delhi via Rishikesh, Karnaprayag.
These two different routes have their own advantages and disadvantages:
(i) Via Haridwar: Delhi-Haridwar-Rishikesh-Sri Nagar-Karnaprayag-Tharali-Dewal-Lohajung-Wan Village (Total, 505 kms, not less than 20 hours in continuous journey)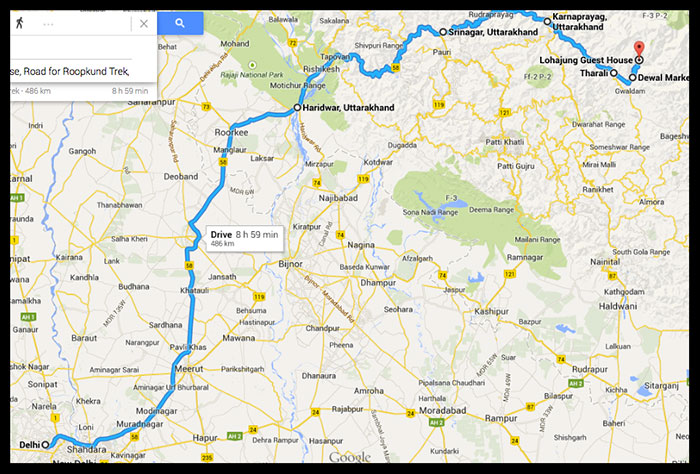 Route Map to Lohajung via Haridwar and Karnaprayag
This route is in better condition as it is the lifeline of Uttarakhand. It is the main route of famous Char Dham Yatra for Badrinath and Kedarnath (Gangotri and Yamunotri are at other side) and accessible throughout the year. Most parts of this route passes through the edge of mountains along the river valley of Alaknanda, thus providing amazing views of the river and its valley. The only disadvantage is the heavy landslides during the rainy season, that may resulted in the frequent blockage of the roads.
Delhi-Haridwar/Rishikesh: Haridwar is 220 kms away from Delhi and has a very good bus connectivity with Delhi. Trains are also available, but they are very few. From Maharana Pratap ISBT in Delhi, government buses are available at very frequent intervals (frequency approx. 30 minutes throughout the day). Some AC VOLVO buses also run between Delhi and Haridwar. It generally take 5-6 hours to reach Haridwar from Delhi. Rishikesh is further 20 kms away from Haridwar. Some trains and buses from Delhi also goes upto Rishikesh, but mostly terminate at Haridwar.
Badrinath/Rishikesh- Karnaprayag: For this portion, you can either catch a bus from Haridwar or from Rishikesh. Most buses start from Haridwar and move further via Rishikesh. If you catch a bus from Haridwar, you have a high probability to grab a good front seat. Prefer a window seat in the right hand side in the direction of the bus for the best views of the river valleys ahead.
Some buses also start from Rishikesh and if you are at Rishikesh bus stand, then you can also catch a bus originating from Dehradun, the state capital, that moves forward at your route. But you may not be able to get a preferred seat.
These buses operate at frequent intervals between Haridwar/Rishikesh to Karnaprayag starting from 4 AM to 11 AM. These buses are usually smaller than the normal buses in the size, because of hilly roads and basically operated by GMOU or Uttarakhand Roadways. All buses going to Joshimath/Badrinath from Haridwar or Rishikesh pass through the town of Karnaprayag. For this 195 kms journey from Haridwar to Karnaprayag expect to spend at least 8 hours in the bus with 30 minutes stop at Srinagar along-with some small stops en-route.
Karnaprayag is a big town on the confluence of Pindar River and Alaknanda River and considered as one of the panch prayag (five confluences) in Uttarakhand. After leaving the bus at Karnaprayag, move towards the road going to Gwaldam to catch another vehicle to Tharali, 45 kms away.
Tips: 1. GMOU bus office is just 100 meters before the Roadways bus stand in Haridwar, near Haridwar Railway Station on the same side of the roadways bus stand.
2. After 11 AM, a direct bus to Karnaprayag may not be available, so you can catch a bus to Srinagar and from there, another transport to Karnaprayag.
Karnaprayag- Tharali: Frequent shared jeeps are available from Karnaprayag to Tharali. Buses are infrequent. The driver of the shared jeep doesn't move unless he get 10 passengers in the jeep. So, expect to wait 20-60 minutes at the stand only. It is about 2 hours journey from Karnaprayag to Tharali.
This small town is situated at the bank of Pindar River, that further merges in Alaknanda River at Karnaprayag. Sometimes these shared jeeps stop in beginning of the market at Tharali. In that case, walk for about one kilometer on the main road and cross the iron bridge on Pindar river. On the way, there are lot of signs of the biggest natural disaster of Uttarkhand that occurred in June 2013. Beyond Tharali, the effect of that disaster was very low. After crossing the river, walk for about 100 meters to the jeep stand to catch another shared jeep to Dewal, 13 kms away.
Tharali-Dewal: Dewal is the last descent town on this route. It is about 45 minutes journey from Tharali to Dewal. Shared jeep fare is INR 40. Try to shop all the necessary things, that you need during Roopkund trek from here only, as you may not be able to get those things at the relatively smaller market in Lohajung.
Dewal-Lohajung: Lohajung is generally considered as the base camp for Roopkund Trek, as most of the tourists start their trek from here only. It is about 17 kms away from Dewal and 1 hour journey (shared jeep fare INR 50) by the jeep. There is a small market in Lohajung, where you can shop other essentials for the trek. You can also rent some trekking equipments from the local shops in Lohajung.
Lohajung – Wan: Some people also goes beyond Lohajung to Wan village by a shared jeep. For this 15 kms journey, fare is 80 INR approx for a person. Wan village is another base camp to start this trek.
Note:
1. A Direct bus service is also availble from Rishikesh to Lohanjung, operated by Uttarakhand Roadways. It departs from Rishikesh at 04:00 AM and takes about 12-14 hours to reach Lohajung. This bus service is highly subjected to the weather conditions and road conditions in that area. The fare is approx. 400 INR.
2. Another bus operated by Uttarakhand Roadways is available from Rishikesh to Tharali. This bus starts from Dehradun at 05:00 AM and goes upto Bageshwar. It reaches Rishikesh at 06:30 AM and Tharali at 04:00 PM.
3. If possible and if available, always board a MAXI vehicle. It is slightly longer than Mahindra Bolero. Bolero is not comfortable for four people on the middle seat or four people on the front seat.
(ii) Via Haldwani: Delhi-Haldwani-Kathgodam-Almora-Gwaldam-Tharali-Dewal-Lohajung-Wan Village (Total, 529 kms, not less than 20 hours in continuous journey)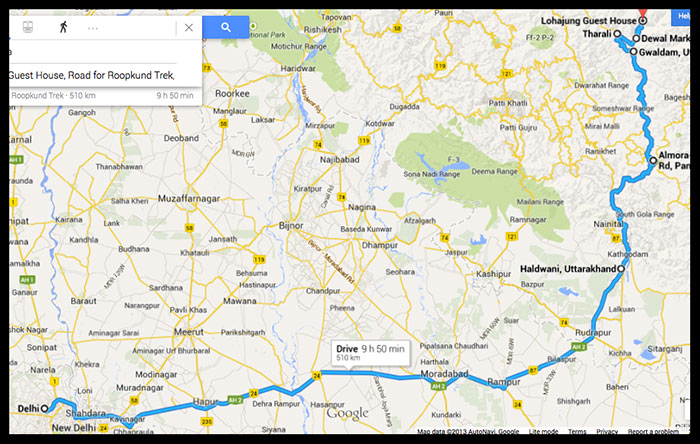 Route to Lohajung via Haldwani and Almora
This route is also accessible throughout the year and not prone to the landslides generally. The beauty on this road is unparalleled as some of the most famous hill stations are located along this route. They include Nainital, Almora, Kausani, Baijnath and Gwaldam.
Delhi-Haldwani/Kathgodam: A train is the best mode of transport for this leg. There are mainly three trains (Shatabdi Express, Uttar Sampark Kranti Express and Ranikhet Express) available between Delhi and Haldwani. I always recommend Ranikhet Express as it starts from Delhi in the night at 10:30 PM and reaches Haldwani in the morning at 04:30 AM. Reaching Haldwani in the early morning is a good idea for onward journey. Kathgodam is the last rail-head on this section and 10 kms away from Haldwani. It is better to leave the train at Haldwani, rather than Kathgodam, because Haldwani is a bigger city and transports for onward journey can be arranged here in a better manner.
Haldwani-Gwaldam: After reaching Haldwani, the next aim is to reach Lohajung, either on the same day or by the next day. There is no direct bus/jeep runs between Haldwani and Lohajung, but you can book a reserve vehicle always from Haldwani to Lohajung.
To continue onwards journey from Haldwani, better to get a shared jeep to Gwaldam. Gwaldam is a small hill-station at the height of 1708 metres (5604 feet). This 174 kms journey from Haldwani to Gwaldam takes approx 6 hours. The fare for this shared jeep journey is INR 350 per person.
There are many options available on this route for the night stay. We went straight from Haldwani to Gwaldam on the first day, as our main aim was to reach Lohajung on the next day afternoon. Depending on your choice and availability of time, you may choose to stay at Almora, Kausani or anywhere else on this route. All are very famous hill-stations in this area.
Note: 1. When you board a shared jeep from Haldwani, the driver insists that he goes upto Gwaldam. But, very few (say only 2-3 jeeps) in a day, goes from Haldwani to Gwaldam. In reality, you have to board another jeep from Garur for Gwaldam. But you shouldn't worry about it. Once you paid Rs.350 as the fare to Gwaldam, its your driver's responsibility to arrange you an onwards transport from Garur to Gwaldam (25 kms). and they arrange it honestly. If you are unlucky like us, then you may land in the trap of some drivers, who are really irritating. The jeep driver will not move unless, the jeep gets full with its capacity of 10 passengers. It may take upto 2 hours as in our case at Haldwani. And our driver was very irritating, stopped jeep after every 2 kms to speak with someone. He even called people shopping on the local shops to board the jeep and kept waiting throughout the way till Garur. The journey from Haldwani to Garur, which was supposed to end in 5-6 hours, took 10 hours for us.
2. On the way, the drivers stop at a dhaba for the breakfast/lunch.
3. There are vehicles plying on this road in the night also, but you may not get a transport in the night beyond Almora if starting in the evening from Haldwani.
4. Two direct public buses run by Uttarakhand Roadways are also available between Haldwani and Gwaldam. First bus starts from Haldwani at 5 AM and goes upto Dewal. It is popularly known as Delhi-Dewal bus service. This bus basically starts from Delhi Maharana Pratap ISBT at 07:00 PM everyday. Second bus starts from Haldwani at 8 AM and goes upto Gwaldam.
Gwaldam-Tharali: There are frequent shared jeep available on this stretch. This 23 kms journey takes one hour and fare is 40 INR per person. Some private buses also operate on this stretch.
Tharali-Dewal-Lohajung-Wan: From Tharali to Wan village, you can proceed as explained in the above option (i).
Note: There is also a direct road available between Gwaldam and Dewal. But this road is not in very good codition, so generally no vehicle move on this road. However, if you can trek, Gwaldam to Dewal is approximately 8 kms easy trek, mostly descend through the hills.